Mother of Kimberly Zielinski '76 passed away:
Posted by mcauleyhighschool on April 17, 2021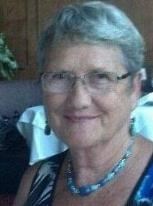 Evelyn (Krupinski) Zielinski, 85, passed away April 7, 2021, at her home in Phoenix AZ, after a brave battle with Stage 4 Renal (kidney) cancer. She was born May 31, 1935 to Michael Krupinski and Ruth (Hayes) Krupinski. She grew up in Toledo OH, attending Shoreland Elementary and Whitmer high schools.
Evelyn is survived by her children, Kimberly Weaver (Gene), Kathryn Wyse, Step-son David Zielinski; grandchildren, David "DJ", Heather, Holly Burch (Randy), Christopher, Ryan Stack, Kristen Hughes (Forrest), Lindsay Mocek (Justin), Trevor (Samantha), Jeremy Yglesias, Nickolas Wyse and Danielle Wyse. She is proceeded in death by her husband Ollie Zielinski, son Ollie "Joe" Zielinski, and grandson Eric Godwin. For many years, Evelyn and her husband Ollie owned a neighborhood corner grocery store "Ollie's Market" in the old south end of Toledo. After they retired they became snowbirds, spending summers in MI at Bird Lake, and the rest of the year in Ruskin, FL. They enjoyed many years in the sunshine state, touring the area with their camping club, boating, fishing, and spending time with their many friends there. Evelyn liked to stay busy, she worked part time at Dooley Groves putting together gift baskets that they sold in their gift shop, and also at Ruskin Family Drive-In theatre, where she sold tickets and snacks in their snack bar.
When Evelyn's beloved husband of 56 years (Ollie) passed away in 2013, Evelyn relocate to Phoenix AZ to live near her daughter Kim. She embraced her new life and began volunteering in her new community, working in the office, joining block watch, and delivering the weekly Community newsletters on her golf cart to everyone's mailboxes. Evelyn enjoyed many activities in her Community including the Women's Club, aqua aerobics, shuffle board, line dancing, bunco, bingo, and game nights. She loved her many friends, and every chance to play cards and dominos with them. She also enjoyed garage sales, craft fairs, many movies at the nearby theater, and trips to her daughter and son-in-law's cabin in the mountains of Northern AZ. Evelyn's wish is to be cremated. Her ashes will be spread in her favorite place in MI, in the same place as her husband and son. There will be a private family service in MI at later time.
The family would like to say thank you to Hospice of the Valley for the care they provided.