Mother of Kathy '73, Mary 76 and Paula Baldoni '81 passed away
Posted by mcauleyhighschool on November 4, 2021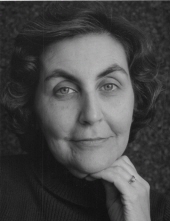 Martha Watt Baldoni lived a life of service to others. She passed away peacefully on October 25, 2021.
A resident of Perrysburg, Ohio, for more than 60 years, Martha defined herself as a "writer, politician, wife, mother, grandmother—all with a sense of humor." She was involved in community service, first with the League of Women Voters. She also ran for elected office, serving two terms as a councilwoman and one term as the first woman mayor of Perrysburg from 1986 to 1990. Her retirement was, as she liked to say, "involuntary because it was at the voters' request." She later returned to city council and was elected president of the council. In between, she became president of the Perrysburg Arts Council from 1990 through 1993.
Martha was as active in ecumenical affairs with area churches, including St. Rose de Lima of Perrysburg. Martha was committed to the causes of racial and social justice, actively volunteering, and organizing events to raise awareness for issues that would make things better for those seeking equality and economic parity.
She was a co-founder of St. Rose Peace and Justice Committee. One of the chief aims of the group is to raise funds for food for the needy. Over time the committee has handed out over 86,000 bags of groceries.
In the wake of 9/11, Martha helped found an inter-faith group of area Christians and Muslims to bridge the gap of misunderstanding and promote greater unity among people of faith and the community at large.
Martha was also active in community literacy programs, offering assistance to adults and children who wanted to develop better reading skills.
In March 2019, Martha was honored by the League of Women Voters for her lifetime of community service.
Born on May 28, 1929, in Trenton, Michigan, to Martha (McKee) Watt and John Watt, Martha lived her early years in Gibraltar. She attended Trenton High School, where she graduated in 1947. She attended Bowling Green State University for two years and transferred to Michigan State University, graduating in 1951. She married Louis Paul Baldoni on August 25, 1951. The following month, Paul began medical school at the University of Michigan and graduated in 1955. After Paul finished his residency, the couple moved to Perrysburg in June 1959, where he practiced family medicine until he retired in 2000. Paul died on April 2, 2007. Martha remained active in her community for many years after Paul's death.
Her four children remember Martha: John (wife Gail Campanella), Kathy (husband Stuart Kerr), Mary, and Paula (husband William Jordan); eight grandchildren: Emi Baldoni, Paul Baldoni, Nick Shiple, Ann Stokes, Mattie Baldoni-Jordan, Will Baldoni-Jordan, and Henry Baldoni-Jordan; and two step-grandchildren, Emily Kerr Reubush and Devin Kerr. In addition, Martha was great-grandmother to six: Cricket Reubush, Quill Reubush, Vincent Ball, Verona Ball, Tripp Stokes, and Giovanni Stokes.
A memorial Mass will be celebrated at 11:00 a.m., Friday, November 26, 2021, at St. Rose Catholic Church, 215 E. Front St., Perrysburg. A luncheon and gathering will follow.
In lieu of flowers, the family asks that donations be made to one of the following organizations: Doctors without Borders, St. Rose Peace & Justice/Compassion, or Hospice of Northwest Ohio. To send flowers to the family or plant a tree in memory of Martha Watt Baldoni please visit our Tribute Store.